The Oil and Gas industry has been under attack for its safety record over the last few years. From the Deepwater Horizon disaster to recent oil spills in the Mississippi River safety is an ongoing and sensitive issue for the Oil and Gas industry.
Accurate and effective communication is critical to ensuring a safe working environment and this is even more critical in the Oil and Gas industry where hostile environments place additional challenges on workers.
That's why safety leaders are focusing very closely on deploying the very best communication headsets in the Oil and Gas industry.
Communication Headsets for Oil and Gas Industry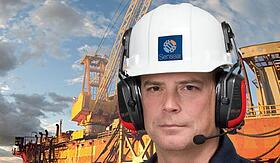 Sensear has partnered with many of the worlds leading Oil and Gas companies to find the right high noise communication solution across their operations. Because Sensear's Intrinsically Safe Headsets have been built specifically for the diverse needs of the Oil and Gas industry they are delivering a powerful communication solution in many different applications. Turnaround Productivity enhanced with the right Communication Headsets
One of the most critical operational processes in the Oil and Gas industry is the shutdown and turnaround. Historically when operational leaders are walking around the plant to discuss plans it was very difficult to communicate effectively. In most cases, managers had to go to a more quiet area just to communicate and this had a negative impact on productivity.
With Sensear's communication headsets, managers are able to communicate seamlessly as they walked the facility, which has resulted in a more efficient turnaround process. According to one of our customers on the North Slope of Alaska,
"Sensear headsets certainly proved to be of immense value during our recent shutdown activities and ought to receive company-wide recognition as one of the two most significant technological improvements in safety discovered and utilized in what is arguably the most successful full plant turnaround in the history of our oil field."
4 Communication & Hearing Protection Challenges at Oil and Gas Industry
There is a multitude of different applications where communication is critical in the Oil and Gas industry.
Sensear's Digital Intrinsically Safe Headset meet the unique needs of the Oil and Gas Industry
What makes Sensear's Intrinsically Safe headset so unique is its cross-communication device functionality. Built into the one IS headset is the capability to connect to Two-way radios (Bluetooth® and Analog), Bluetooth® Smart Phones, and Tablets, and also to provide a Headset-to-Headset communication solution for workgroups.
Further because of Sensear's SENS® (Speech Enhancement, Noise Suppression) technology workers can communicate face-to-face in noise levels up to 95-97dB.
Because Sensear Intrinsically Safe headsets enable full 360° situational awareness and limit noise into the ear to 82dB, they are the safest communication headset available to the Oil and Gas industry.
Sensear is solving high noise communication problems across a range of Oil and Gas headset applications.