Charge Racks
---
Convenient Charging Solutions for Small to Large Scale Operations
Sensear's Charge Racks are heavy-duty industrial charging solutions that allow for charging up to 45 headsets on a large scale and 6 headsets on a small scale. With three different-sized racks, these are great solutions for companies with numerous headsets in operation at any given time on multiple shifts and/or for plant tours and training facilities.
Keep your headsets ready to go for your next workgroup, tour, or training group, so workers, guides, and participants or teachers and students can benefit from all of the great features these headsets have to offer, including Sensear's industry-leading SENS® Technology that enhances speech and suppresses background noise so users can communicate safely and effectively in noisy environments.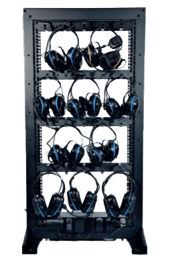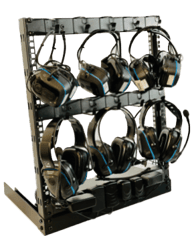 Features and Benefits:
Complete solutions for all Sensear headset styles in any combination (Headband, Behind-the-Neck, and Helmet Mount)

Tabletop, desktop, and floor solutions
Single and double-sided solutions for extra capacity

Charge up to 45 headsets on a large rack and 6 headsets on a small rack from a single AC outlet

15 ft cord

Small footprint

Rugged heavy-duty design

Four heavy-duty caster wheels for easy relocation on larger racks

On-site rack assembly is required
Easy-to-follow instructions are provided.
Rack Options Available:
Table Top Charge Rack (North America) with 6-Point AC Distribution


Capacity of up to 6 headsets
Part Number: SCHARG08-01
Features:


- 20" wide x 24" tall x 12" deep

Charge Rack (North America) with 12-Point AC Distribution


Capacity of up to 12 headsets
Part Number: SCHARG12-01
Features:


- 24" wide x 28" tall x 24" deep

Charge Rack (North America) with 23-Point AC Distribution


Capacity of up to 12 headsets
Part Number: SCHARG23-01
Features:


- 24" wide x 28" tall x 24" deep

Charge Rack (North America) with 40-Point AC Distribution


Capacity of up to 40 headsets
Part Number: SCHARG40-01
Features:


- 24" wide x 82" tall x 24" deep

Charge Rack (North America) with 45-Point AC Distribution


Capacity of up to 45 headsets
Part Number: SCHARG45-01
Features:


- 24" wide x 82" tall x 24" deep

Charge Rack (EU) with 45-Point AC Distribution


Capacity of up to 45 headsets
Part Number: SCHARG45EU-02
Features:


- 24" wide x 82" tall x 24" deep




Charge Rack (UK) with 45-Point AC Distribution


Capacity of up to 45 headsets
Part Number: SCHARG45UK-03
Features:


- 24" wide x 82" tall x 24" deep

Charge Rack (AU/NZ) with 45-Point AC Distribution


Capacity of up to 45 headsets
Part Number: SCHARG45AU-04
Features:


- 24" wide x 82" tall x 24" deep