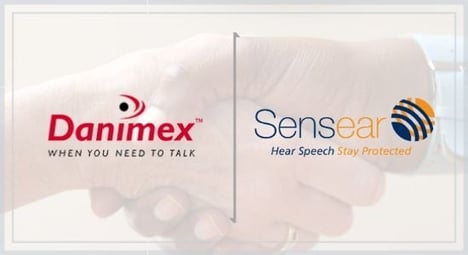 Danimex Communication
and Sensear have formed a new partnership to market Sensear's products in Middle East, Africa, Benelux and the Scandinavian Countries.
Danimex is one of the largest two-way radio distributors in the world offering its partners a comprehensive range of products and solutions relating to telecommunication. This distribution agreement fills a gap in Danimex's accessory portfolio and enables them to offer an even better selection of quality products to their customers.
Sensear offers best-in-class digital over-the-ear and in-the-ear headsets for use with two-way radio and Bluetooth communication devices. Sensear's patented SENSTM technology simultaneously enhances speech and suppresses background noise so that users can verbally communicate, protect their hearing, and still maintain 360-degree awareness of their surroundings in noisy environments such as oil & gas, mining, construction, heavy manufacturing and other industrial workplaces.
Cathal Tierney, CEO, Sensear Pty Ltd
said: "This agreement joining Sensear, a provider of world class headsets and Danimex, a trusted customer partner, will provide a safe and connected experience for customers throughout Europe, Middle East and Africa"