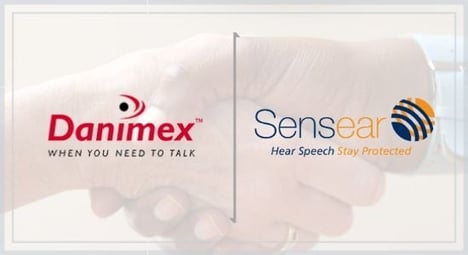 Danimex Communication
and Sensear have formed a new partnership to market Sensear's products in the Middle East, Africa, Benelux, and the Scandinavian Countries.
Danimex is one of the largest two-way radio distributors in the world offering its partners a comprehensive range of products and solutions relating to telecommunication. This distribution agreement fills a gap in Danimex's accessory portfolio and enables them to offer an even better selection of quality products to their customers.
Sensear is driving a new approach to Occupational Hearing Conservation by combining the most innovative communication systems with the very best hearing protection technologies to ensure users can hear speech and stay protected in high noise workplace environments.
Sensear's Smart Communication Headsets and Earplugs with
SENS® Technology
are used for hearing protection and communication while maintaining 360° situational awareness to provide workers personal safety and effective communication.
Sensear's innovative SENS® Technology brings low noise hearing experiences into high noise environments by

i
solating and enhancing speech while reducing harmful background noise. Additionally, SENS® enables 360° situational awareness by retaining original sound characteristics, reducing the risk of accidents.
Workers can also social distance and have seamless face-to-face conversations headset-to-headset on their two-way radios or Bluetooth-enabled devices with other workers in the area without screaming and yelling, all while protecting their hearing using industrial quality noise-canceling headsets and having complete 360° awareness of approaching vehicles, alarms, or other hazards.
Cathal Tierney, CEO, Sensear Pty Ltd
said, "This agreement joining Sensear, a provider of world-class headsets and Danimex, a trusted customer partner, will provide a safe and connected experience for customers throughout Europe, the Middle East, and Africa."