Sensear is Solving High Noise Communication Problems in the Construction and Heavy Equipment Industry
---
Hearing Protection Safety for Workers in Construction and Heavy Equipment Industry
Construction workers and heavy equipment operators face unique challenges like working in extreme weather conditions, exposure to dust, fumes, and chemicals, and loud environmental noise.
From a noise perspective, heavy equipment vehicles operate within a wide range depending on payload, road, and vehicle conditions among other factors.
Noise Levels in Construction Industry
As a point of reference:
A typical family vehicle will run between 40 and 60 dB(A),

Fire engines will have low to mid 80 dB(A) noise levels,

Haul Trucks for Mining operations are around 90 dB(A) with combined two-way and satellite radio entertainment competing for a driver's attention.

Military vehicles are even higher with an M1A1 Abrams tank running around 108 dB(A) or more, even 93 dB(A) at idle.
These high noise levels make communications difficult or impossible for operators and also increase the chances of hearing loss.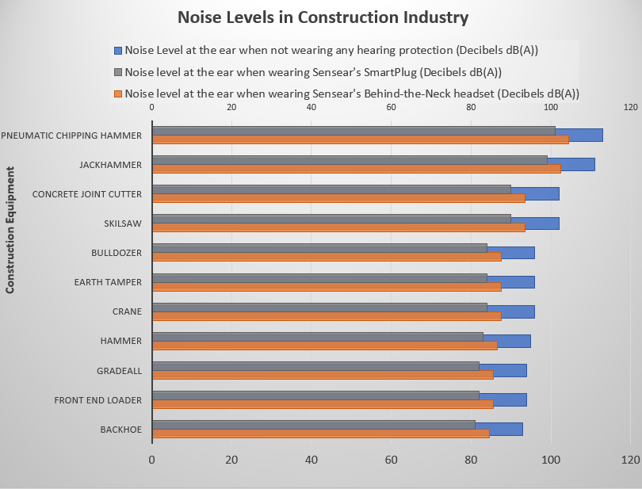 Hearing Protection Headsets & Noise Cancelling Communication Headsets for Construction Workers & Heavy Equipment Operators
In these cases, construction communication headsets are used for hearing protection and communications with two-way radios to provide communications between operators inside the vehicles and operations at the base or throughout the worksite.
Sensear's range of Two-Way Radio and/or Bluetooth® Headsets and Earplugs are powered by its groundbreaking SENS® (high noise communication) Technology that elevates speech and suppresses dangerous background noise so workers can hear speech and stay protected in high-noise environments. Which increases job site safety by enhancing communication and providing 360° situational awareness of the environment.
Workers can have seamless face-to-face conversations with other workers in the work site area without screaming and yelling to communicate clearly on their two-way radio or Bluetooth-enabled devices, all while protecting their hearing using top-quality construction noise-canceling headsets. Sensear is the perfect solution for workers in construction and heavy equipment operator environments.
Heavy-Duty Construction Headsets for Hearing Protection and Communication
For some of the best hearing protection solutions for construction and heavy equipment applications, turn to Sensear. Sensear is solving high-noise communication problems for many of the world's leading Construction companies including the following: