Digitizing the Oil and Gas Industry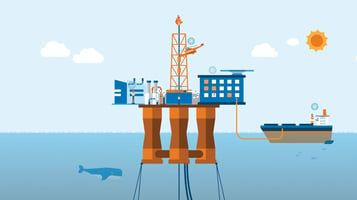 The oil and gas industry is turning towards digital communication technologies to develop more efficient ways for communication, remote monitoring, and real-time asset management on oil rigs and oil fields. For oil and gas industry operators, a move to the digital era will offer the potential to accelerate productivity, improve operational efficiency, and provide superior protection to workers. To seize these opportunities, operators look for communication solutions that can help improve operations, and safety, reduce operational costs and manage risk more effectively.
LTE + IP/MPLS Networks
Long-Term Evolution typically referred to as LTE is 4G wireless communication designed to provide up to 10x the speed of 3G networks for devices such as smartphones, tablets, notebooks, and wireless hotspots. LTE enables oil and gas operators to build an industry standards-based broadband, non-line of sight (LOS) wireless network that extends the reach of communications for exploration, transportation, and production. LTE provides broadband speeds with QoS management capabilities that enable real-time communications for critical monitoring, control, and automation. It offers a reliable broadband radio access network that can support the bandwidth-intensive video and data applications needed to improve the efficiency of upstream, midstream, and downstream operations, and mobile edge computing for low latency data processing at the edge for automation.
Private LTE Network

Setup
There are several companies that help with the switch from traditional communication systems to digital LTE communication systems. Below are a few of them.
Safety Tips for Oil and Gas Industry Workers
Going digital is just one step toward employee safety. Several studies show that oil and gas industry workers are at the highest risk of accidents and injuries at work.
Constant Housekeeping

The risks of accidents are reduced if floors, hallways, and all work areas are kept clear of unnecessary items. It prevents trips and falls and struck-by hazards.

Install an In-Vehicle Monitoring System

Motor vehicle accidents account for the highest number of total accidents in the oil and gas industry. Monitor driver behavior to determine the needs and requirements for vehicle safety programs and driver training.
Reassess Safety Signage When Projects Change

After project completions and crew changes, make sure the signs and labels are readable and in the correct areas. Communicate new hazards if any before the next crew or next project begins.

Perform Regular Machine Maintenance

Preventing machine failure keeps your workers safe. Conduct regular maintenance checks of machinery.

Provide Personal Protective Equipment (PPE)

Personal protective equipment (PPE) or safety wearables are one of the most important safety tips to protect workers in hazardous workplaces. Some PPE for oil and gas industry workers include:

Traditional hearing protection earmuffs restrict the workers' ability to communicate with each other. Sensear's range of Wireless Hearing Protection Headsets with Bluetooth® is compatible with LTE cellular networks as well as two-way radio systems, as they offer both Bluetooth® and cable connectivity to LTE and LMR devices simultaneously allowing for interoperability between LMR and LTE in dual-use operations or during the transition phase. These headsets are powered by SENS® high-noise communication technology which elevates speech and suppresses dangerous background noise so workers can hear speech and stay protected in high-noise environments. It also provides 360° situational awareness

, another safety feature that allows you to remain aware of surrounding noises and hazards.



Using Sensear's hearing protection and communication headsets/earplugs, oil and gas workers can have seamless face-to-face conversations with colleagues in the area without screaming and can communicate clearly on their two-way radios or Bluetooth-enabled devices, all while protecting their hearing.

Sensear's product line of Intrinsically Safe (IS and Ex) Headsets

with Bluetooth®

are certified to meet global standards (ATEX, IECEx, UL, CSA, etc.), ensuring that oil and gas workers can communicate effectively and efficiently in high-noise and hazardous work environments while protecting their hearing. Sensear provides intrinsically safe hearing protection and communication headsets and earplugs that are vital to the safety and efficiency of your operation.




Also, see how Sensear's Bluetooth® and Two-Way Radio Headsets proved beneficial to these oil and gas companies.

Head, Face, and Eye PPE

Safety glasses with side shields are effective for protecting against flying objects and Impermeable goggles should be worn while working around liquid, gas, or vapor hazards. Face shields should be used to protect the entire face from both flying objects and chemicals. Hard hats protect workers from falling objects and overhead electrical hazards that they could bump into.

Body PPE

Specialty gloves should be worn to protect against injuries like crushing, cuts, strong chemicals, heavy vibrations, and situations where multiple hazards are present. Safety boots with steel or impact-resistant toes are common and have slip-resistant soles with a strong grip to avoid slips and fall accidents. Depending on job duties, proper clothing should be selected.

Respiratory PPE

Air-purifying respirators with cartridges are designed to filter flying particles and/or chemicals like organic vapors or acid gases. In circumstances where the air cannot be filtered or purified, respirators should be provided to workers.
There's a wide range of PPE available. Select the best PPE for you and your employees and make sure your employees are trained on how, when, and why to wear the appropriate PPE.