When working in the oil & gas or mining industries, there are certain safety requirements that must be met to use the equipment. These work environments are explosive atmospheres where products need to be something called "intrinsically safe" or IS for short. What does this mean, and are products such as two-way radios intrinsically safe because they have IS batteries?
To answer the second question: no, two-way radios are NOT intrinsically safe just because they have an IS battery. To understand why this is, we must answer the first question: what does it mean to be intrinsically safe?
Definition of Intrinsic Safety
The word "intrinsic" or "intrinsically" refers to something that is essential. This means that intrinsically safe headsets are meant to keep safe that which is essential – the headset user. Headsets are electrical equipment that can generate sparks. Sparks (which generate heat) in explosive or hazardous environments can potentially lead to one thing – a violent explosion. This is obviously not a good thing and puts anybody in the vicinity of the sparked headset in jeopardy, especially in environments like oil rigs or oil fields where gas and flammable materials are present. So, what then is the point of intrinsically safe headsets? They prevent the explosion from happening, thus keeping people safe.
So, what makes a headset intrinsically safe? If what causes explosions in these hazardous environments is the electrical spark, then intrinsically safe headsets need wiring, circuitry, and material that is incapable of releasing the electrical energy sufficient to ignite gas or flammable materials. This is why two-way radios and headsets are not necessarily IS just because they have IS batteries.
Intrinsically Safe Certifications
All intrinsically safe products must be certified by regional standards that vary by country or region around the world. There are four main certification agencies, which are ATEX (Europe), UL (USA), CSA (Canada), and IECEx (global). For equipment to be safe for use in a hazardous plant or workplace, the classification category of the equipment must be equal to or better than that required by the plant.
ATEX and IECEx
The ATEX guidelines of the European Union, more commonly referred to as ATEX, are derived from the French term ATmosphère EXplosive. You can see the relation to intrinsic safety and why they use the term "Ex" (for "explosive") in the EU instead of IS. ATEX equipment bears the "CE" marking, which indicates it has been approved by ATEX for use in hazardous conditions.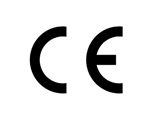 According to the Health and Safety at Work magazine, there are three criteria that ATEX covers for IS equipment:
It must be purposely designed for use within an explosive atmosphere at normal temperatures and pressures.

The atmosphere may contain gas, vapor, mist, or dust as a fuel, but must be based on air as the oxidizer.

The equipment must have an ignition source in and of itself, such as a spark, hot surface, etc.
After leaving the EU (Brexit) in January 2020, the UK Conformity Assessed (UKCA) marking became the new standard in the UK for Ex products. The UKCA marking became mandatory following Brexit, however, the CE marking is still acceptable to use along with UKCA until January 1, 2022. After said date, the CE marking will no longer be accepted in the UK and the UKCA will be mandatory on all packaging/documentation supplied with the product. After January 1, 2023, the UKCA marking must be on all certified products.
IECEx (International Electrochemical Commission IEC) is a globally used process that is almost identical to ATEX. The goal of IECEx is to reach global harmonization of codes that govern the use of electrical equipment in hazardous environments. Although IECEx uses different codes than ATEX, it still requires the same detailed informational product label. As most modern devices have both ATEX and IECEx approval, their labels will display the codes and information for both agencies. Here is a typical ATEX and IECEx label:

Although these are the typical information on these labels, the minimum information required by ATEX is as follows:
Product name and Manufacturer's address

– Who holds the production quality assurance certificate, and all addresses where an item is manufactured as part of an assembly chain.

The CE marking

– 5mm in height wherever possible, followed by the serial number of the Notified Body certifying the production assurance system or type examination.

Type or model reference, and serial number

(if any)

Manufacture year

– This can be part of the serial number to simplify label printing.

ATEX marking

– The hexagon-shaped symbol with "Ex" inside, followed by equipment group and category.
Additional marking for safe use such as:

Explosion classification

Operating temp range

Supply voltage
UL and CSA
UL or Underwriter Laboratories is an independent organization endorsed by OSHA that tests and certifies product safety in North America. UL evaluates compliance of products, components, materials, and systems against a specific set of standards that is often updated. The UL mark, therefore, can only be used if the products meet the standards.
UL 913 is the typical standard for Intrinsically Safe Headsets for use in Class I, II, and III, Division 1, Hazardous (Classified) Locations. We will dive into Classes and Divisions in the next blog, but there are two systems in place in North American hazardous locations: the Division system and the Zone system. Below are typical labels for each system: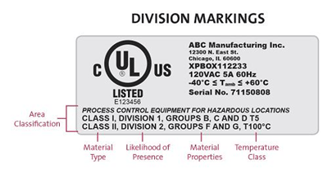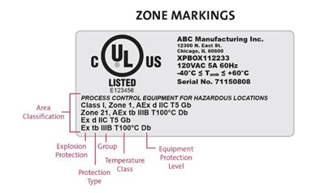 CSA stands for the Canadian Standards Association; however, it is a global provider of certification services, recognized throughout North America and Europe. It is very similar to UL, testing products for businesses to see how they respond to certain environments or situations. The only difference between the CSA and UL is that UL only applies to the U.S and Canada (C – UL). Therefore, if you want to export your product, CSA is the better option as it is recognized globally, whereas UL is the better option if you are only selling in North America.
Sensear's Certifications
Sensear's range of Hazardous Location Smart Headsets and Earplugs are certified by all four major standards (ATEX, UL, CSA, and IECEx), being a manufacturer and global seller of IS and Ex headsets.
In our next blog, we will dive deeper into the hazardous materials classification system and how you can know your communications headset is meeting the Intrinsic Safety Requirements for your work environment.