There have been many advancements in hearing protection and communication technology, and probably the most well-known is active noise-canceling technology. As pointed out in a previous blog, active noise cancellation "cancels" or blocks out almost all noise coming into the headset. This causes an issue in many work environments where workers need situational awareness to prevent workplace accidents and keep them aware of potential hazards. The alternative to active noise cancellation is noise suppression. What are the differences between these two technologies?
Active Noise-Canceling
Active noise-canceling continuously measures, compares, and reacts to outside noise, and then cancels it with the opposite signal. This allows any sounds generated within the headset to be understood more clearly (music, radio communications, etc.).

A major concern with active noise-canceling is that all sounds external to the headset are subjected to cancelation. This can mean that the wearer is less likely to be aware of their surroundings.
Noise Suppression
Noise suppression is achieved with dual (omnidirectional) microphones or quad (omnidirectional) microphones, which are used to pull in audio signals (noise, speech, alarms, etc.) from the surrounding environment. These audio signals are sent to a digital signal processor (DSP) with algorithms to help separate and suppress background noise. Also, with advanced algorithms, this may include isolating and enhancing speech so you can hear and be heard clearly regardless of the noise around you.
Advanced noise suppression:

Today, major advancements have been made in noise suppression, as opposed to the older active noise-cancelation technology. These improvements provide for more effective communication and situational awareness, while still protecting the wearer's hearing.
Sensear's Quad-Omni-Directional Mics: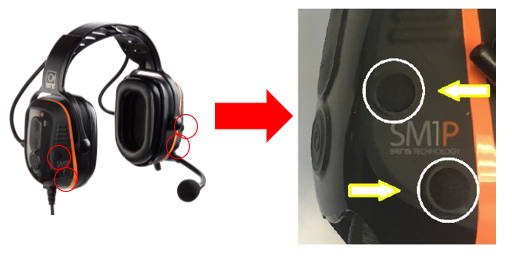 Sensear's SENS® Technology
Sensear's patented SENS® Technology is an advanced noise suppression technology implemented into Sensear's smart earmuffs and earplugs. There are three components to SENS®: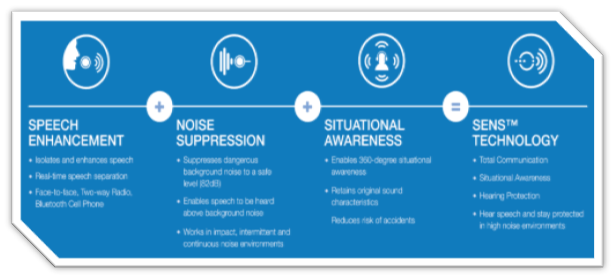 SENS® goes beyond noise-cancellation by isolating and enhancing speech while reducing harmful background noise. With SENS®, users can hear speech and stay protected while remaining aware of their surroundings in high-noise environments. If you are looking for the best high-noise communication technology, do not choose active noise cancellation, choose the advanced SENS® Technology.