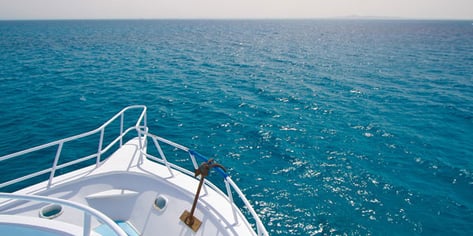 Two-way radio communication isn't just for high noise industrial environments. Clear, uninterrupted communication between persons in different locations can be essential. If you are unsure a two-way radio headset would be beneficial in your work environment or believe that it would be a wasted expense, perhaps Captain Josh's story may help you decide.
Captain Josh of the Motor Yacht Avante V found out clear communication with his engine room from the pilothouse was critical in an emergency situation. Here is his story, as told to his distributor Stan Teplitz of National Marine Suppliers.
Fate was watching over me the day I came into National Marine and tried out the Sensear SM1 headset.
Teplitz pointed out, "this is not a luxury but a safety product the boat can't afford to be without". Not only should it be used in the engine room, but any location where high noise levels may create a problem, such as a wing station when docking or the anchor locker when pulling anchor.
At first, I was a little hesitant about the purchase of something I wasn't sure I'd get much use from. As you aptly pointed out, it is a matter of safety to have communication with the engine room.
We departed Fort Lauderdale at 0400 the next morning bound for Charleston. Two and a half hours out of Port Everglades, 30 miles offshore we lost all engine controls.... you can see where this is heading.
I had full, clear communication with my engineer as we tried to troubleshoot the problem. After trying everything we could think of I decided we would have to make our way to Palm Beach to arrange repairs.
With me in the pilothouse and my engineer on the manual clutch and throttle controls in the engine room, we made our way to Palm Beach and safely maneuvered into a position for tugboats to put lines on for a tow into a marina slip.
The entire crew was in awe not only of the performance of the new headset but the sheer luck that I happened to buy them the day before we really needed them.
We made necessary repairs and safely completed our passage to Charleston a few days later.
How does Captain Josh feel about his Sensear SM1 Headset?
Thank you Stan for demonstrating the headset, and selling a truly phenomenal product. I asked about the return policy when I purchased the SM1, but can confidently say that it will not be necessary, as I'm never giving them up!
The Sensear SM1 Headsets became a valuable tool for Captain Josh and his engineer. Their ability to stay at their posts and communicate with one another was an essential factor in being able to bring their ship in for repairs safely. No matter the industry, when communication is key – a total communication solution from Sensear can provide an extra layer of assurance in an emergency situation, or in the everyday work environment.