Many of the world's leading manufacturing companies contacted Sensear to reevaluate their communication solutions in light of today's new normal: social distancing. The companies want to invest in the best communication solution available to help protect their employees' hearing as well as enable clear communication, all while maintaining six feet of social distance.
Industries like food and beverage, packaging, print, paper, etc. need to adhere to the Centers for Disease Control and Prevention (CDC) new guidelines while still maintaining a productive, safe environment.
Despite the unemployment and the layoffs in other industries, essential manufacturing industries such as healthcare, paper, packaging, and food/beverage desperately need a consistent, reliable workforce. Training new hires under the safety protocols of social distancing is extremely important.
Effective Communication is Crucial while Maintaining Social Distancing Guidelines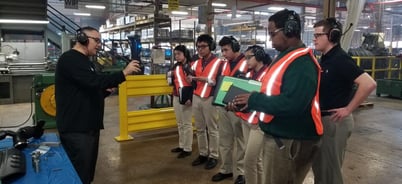 Training and onboarding new workers and re-training existing workers on new methods and systems are important concerns to maintain and increase efficiency and production.
While employee training has always been vital, in times of social distancing, it seems to escalate. Many manufacturers are adding to or changing their product lines to assist in the "war" against the coronavirus pandemic, training has become a top priority.
For successful training, effective communication is a must. Most of the inquiries we receive these days are focused on the communication solutions needed to carry out employee training effectively and safely.
Sensear's SmartGroup Communication Solution to Overcome Social Distancing Issues
The social distancing guideline suggests at least 6 feet distance between two individuals. In a high-noise environment, such as a factory floor or shipping bay, this makes it difficult to communicate, and face-covering makes it worse.
Sensear's SmartGroup products are an industry-leading solution for companies that carry out plant tours and training in noisy environments.
The tour guide (teacher) and participants (students) will benefit from short-range: headset-to-headset communication up to 150 feet as well as protecting their hearing at the same time. This is achieved through Sensear's SENS® Technology which enhances speech and suppresses background noise so users can communicate safely and effectively in noisy environments.
Sensear SmartGroup is the next generation of plant tour headsets. Here are just some of the many benefits that SmartGroup has to offer.
Teacher headset-to-student headset communication (approx. 50 m / 150 ft range) via short-range

Up to 27dB NRR (noise reduction rating)

Remain aware of surrounding noises & hazards with SENS®

Rechargeable battery (24-hour life, 4-hour charge time from totally flat to full)

Durable and lightweight design

Connects to the most existing two-way radio system

Maximum noise exposure of 82

dB(A)

The system is fully expandable to up to 8 separate groups and has no limitation to the number of users

Available in headband, behind-the-neck, and helmet mount styles
Smart Group is available in two different configurations: 1x Teacher 5x Student; 1x Teacher 10x Student.
Need a custom configuration? Click here to Contact Us and let us know your requirement.
Click here to download the SmartGroup Series Brochure
Please reach out to your Sensear representative for additional questions and concerns or click here to contact us.