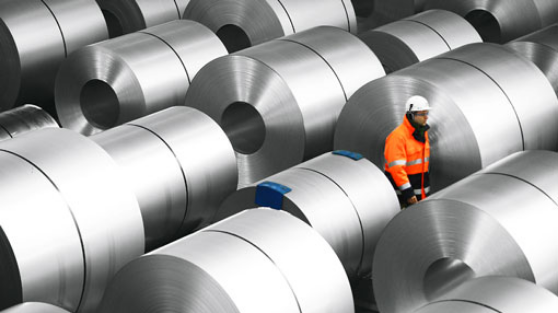 The American iron and steel industry is an integral part of the U.S. economy, attributing more than $520 billion USD. According to the Office of Energy Efficiency & Renewable Energy, "Steel is the material of choice for many elements of manufacturing, construction, transportation, and various consumer products" (Energy Efficiency & Renewable Energy). The reason steel is often the number one choice of metal for manufacturers is because of its intrinsic durability and recyclability, making it a critical industry for production.
With more and more manufacturers using steel, steel companies need to be innovative in making their industry safer and more efficient. One of the best methods is by making advancements in automation, including better connectivity in communication, which improves overall safety. Introducing LTE (long-term evolution) or 5G opens the possibilities of automation and wireless networking. Switching to this technology provides features like:
Connectivity:

With its high-speed connectivity and low latency, LTE provides connectivity to every distant corner of the steel mill. It also helps in tracking people and automobiles with an accuracy of 1 cm. In Bring-Your-Own-Coverage (BYOC), the LTE base station can be easily deployed in several places, ensuring connectivity in the difficult-to-reach areas of the mill. Additionally, 5G has increased broadband speeds/capacity.

Speed:

LTE and 5G ensure the best voice quality and high-speed data, allowing workers to remotely join video conferencing calls or surf the internet for research. Mill workers thus can work more efficiently and with high accuracy.

Safety:

Wireless Bluetooth® devices allow sharing voice, data, and other information between paired devices and are a safer option than wired connections.

Communication:

Wi-Fi is not designed for wide-area coverage and this solution has its limits. For a fully autonomous and high-performing work zone, clear communications are needed.
Choose the Right Communication Headset or Earplug for Your LTE Cellular Network
An LTE mobile communication system offers a secure and flexible solution. It handles the most demanding requirements like bandwidth, quality of service, latency, and positioning. When steel companies switch to an LTE network, their workers' hearing protection and communication solutions should be able to adapt to this change. Their communication solutions should be able to:
Monitor fully remote, with very high bandwidth and low latency requirements
Handle a constantly changing production environment
Maintain broad coverage for all corners of the steel mill where machinery or staff could potentially be located
Track and coordinate mobile equipment fleets, sensors, and other devices within one LTE communication network
To meet all these requirements, smart hearing protection is needed. Sensear is an industry leader in developing and manufacturing best-in-class Digital Communication and Active Listening Headsets for use in high noise and hazardous working environments. Sensear's Wireless Bluetooth® Headsets and Bluetooth® Earplugs can be put to work on any LTE Cellular network with LTE communication devices via cabled/wired connection or Bluetooth®, which supports conversation and audio streaming.
All of Sensear's smart noise-canceling headsets come with Sensear's patented SENS® technology, which simultaneously enhances speech and suppresses background noise, so that steelworkers can verbally communicate, protect their hearing, and still maintain 360° awareness of their surroundings.
Improve your workers' safety and efficiency by providing a reliable noise-canceling wireless and/or wired headset to protect hearing while providing exceptional communication in high noise environments. Under OSHA law, employers have a responsibility to provide a safe workplace to their employees, and at Sensear, the safety of our customers has always been our top priority. Call us at 1-888-973-6732 (US) or 1-300-859-120 (AU) or email us at info@sensear.com.