Helping your employees return to work, safely and confidently, during the coronavirus (COVID-19) pandemic is not easy.
The COVID-19 pandemic has created several new challenges, for businesses looking to reopen and the essential manufacturing facilities that had to increase their facility production time to meet the increasing demands. While managers and employers may feel a sense of urgency to get their business back to normal as soon as possible, occupational health and safety legislation puts significant obligations to ensure a safe work environment for the workers.
Protect your employees by taking necessary precautions like,
Cleaning and Disinfecting the Facility




Make sure your facility is fully cleaned, disinfected, and equipped with a blueprint for maintaining safe conditions frequently.

Monitor Employees Health




Adopt new strategies including temperature screenings, observed handwashing, etc. for employees and vendors before

they enter the facility.

Wear a Mask




Wearing a mask does not replace the need to practice social distancing. But wearing a mask in public were staying 6 feet apart is not possible decreases your risk of getting infected.


Social Distance in Shared Spaces




Maintain at least 6 feet of distance between employees. COVID-19 spreads easier between people who are within 6 feet of each other.
Social Distancing
The response to the COVID-19 pandemic is continuously evolving as doctors and scientists learn more about the virus and the best techniques to address the associated risks. The guidelines may change from time to time. But social distancing is the 'New Normal.'
Be prepared and get your Social Distancing Communication Solution Today!
Social Distancing is extremely important among workers, but it can limit your employees to have clear team communication, especially in high-noise environments. We understand the workers' requirement to have clear and distinct communication to improve efficiency and guarantee the safety of all team members.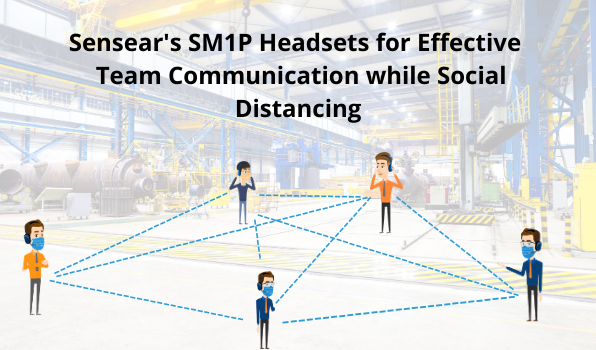 With Sensear's Bluetooth headsets, your employees can have seamless face-to-face conversations with all team members in the work area without shouting or needing to move in close, all while protecting their hearing. The built-in short-range for headset-to-headset communication has a range of up to 150 feet. Communication over longer distances through Bluetooth-enabled devices is also possible.
To learn more, Download the Headset Datasheet
To get the best solution for communication, noise reduction, and noise cancellation for your manufacturing plants, schedule a free consultation with our headset specialist today and they will help you find the ideal hearing protection and communication solution for your facility.