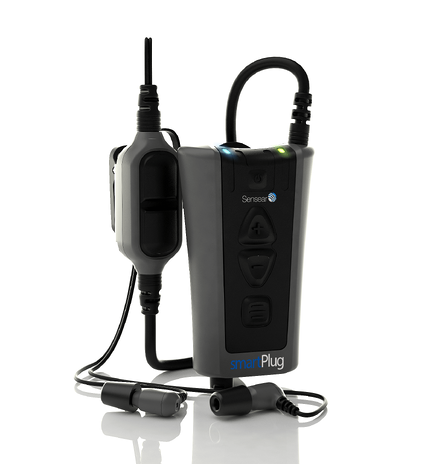 For nearly 40 years, the International Wireless Communications Expo has been THE event for communications technology.
Boasting more than 7,000 communications professionals, 350+ providers and vendors, and nearly 100,000 square feet of the latest communication technology, the IWCE is the perfect place to learn about the latest industry trends, as well as announce the newest technologies—like our latest solutions: the smartPlug™, featuring an innovative ground-up design; including 82dB noise-limited in-ear and in-ear voice pick up, and our IS–SDP, featuring an outstanding 31dB NRR rating.
Key Themes at IWCE
Hosted in luxurious Las Vegas, this year's IWCE featured a number of key themes that we felt are critical to keep in mind this year. Cyber Security and the concerns that the US government, companies, and citizens have regarding their privacy and data loomed larger than ever. The Future of R&D in public safety maintained a consistent drumbeat. BYOD (Bring your own device) and the impact those devices have on the work environment and safety are also featured more prominently than ever.
In our work and research, we've found that this last theme—BYOD—is reaching critical proportions for our customers. According to Cisco's Visual Networking Index, "Global mobile devices and connections in 2014 grew to 7.4 billion, up from 6.9 billion in 2013. Smartphones accounted for 88% of that growth, with 439 million net additions in 2014." Since there are approximately 7.3 billion people on the planet—that's more than 1 device PER PERSON.
A Rapidly Changing Communications Environment
The implications and opportunities of this rising tide in the industry are limitless, as workers are more and more leveraging their own devices for work-related activities. The growing trend—and demand—in this space of utilizing smartphones in high-noise environments like transportation, mining, and oil—is causing governments and private businesses alike to closely examine technologies, processes, and procedures from both productivity—and safety points of view.
Given that these advances in Bluetooth® technology have made wireless communications more reliable than ever, and workers are more prone to leveraging their personal devices in high noise work environments, it's critical that employers provide safe communication solutions that empower their employees while enabling them to be as productive as possible. We've reached a critical mass where cutting-edge Bluetooth® technology must intersect with rugged construction to perform and survive in the harshest environments.
That's what Sensear brought to the table at IWCE. Our excitement about our two newest products, the smartPlug, and the IS-SDP, was matched only by attendees' enthusiasm for the innovations we presented. The new Intrinsically Safe – Sensear Double Protection Headset (IS–SDP) was incredibly well-received at our booth, while the 31dB NRR rating of the new smartPlug™ stopped attendees in their tracks. And with all the innovations coming out of IWCE and Sensear this year, you might be asking yourself this:
I Just Upgraded Last Year. Do I Really Need Cutting-Edge Hearing Technology?
A proper assessment of your safety and hearing protection program should be reviewed each year. For more on that, check out this post on reviewing your hearing protection program. It's critical to note: advances in hearing protection are happening faster than ever, and it's important to provide the best protection you can to your workers.
With Sensear's industry-leading technology recently announced at IWCE, and workers' changing habits in the modern BYOD marketplace, you can be certain that you are providing the safest, most productive solutions available on the market.
Sources:
http://www.cisco.com/c/en/us/solutions/collateral/service-provider/visual-networking-index-vni/white_paper_c11-520862.html