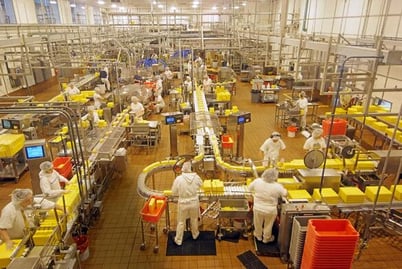 There are over 1.64 million workers in the food processing industry who face numerous safety hazards while on the job. One of the most common hazards is the high noise levels from the equipment around the plant. In certain food processing plants, the noise can exceed 95 dB(A), making it difficult for workers to communicate effectively. Often, workers resort to removing their ear protection and shouting over the noise or seeking out quieter areas for simple conversations, which can lead to unsafe practices and downtime.
Hearing protection in the food processing industry differs somewhat from other industries. In addition to protecting workers' hearing, employers must also maintain the purity of the product. Some types of food processing require Intrinsic Safety measures, as certain dust particles like flour can become explosive in the air or if they accumulate on equipment.
According to OSHA regulations, food processing employers must provide hearing protection to their employees when noise exposure reaches or exceeds an 8-hour time-weighted average (TWA) of 85 dB(A) or more. Providing proper hearing protection for employees can be challenging in facilities with strict health and safety requirements, especially when the majority of workers in food processing need to communicate effectively with their colleagues. Traditional hearing protection headsets simply block noise, limiting workers' ability to communicate and be aware of their surroundings.
Providing Effective Team Communication and Safe Workplaces
Regardless of the communication system you utilize, such as two-way radio systems or mobile devices, effective communication in high-noise food processing environments requires the appropriate communication headset or earplug to meet your communication needs and ensure personal protection against hearing loss.
Sensear's Bluetooth® Communication Headsets are designed to be compatible with mobile communication devices and two-way radio systems, offering both Bluetooth® and cable connectivity simultaneously. This allows team members to engage in seamless face-to-face conversations without the need to shout or physically move closer to each other, all while safeguarding their hearing. The headsets also include a built-in short-range feature for headset-to-headset communication, with a range of up to 150 feet.
Powered by our patented SENS® Technology, Sensear's headsets elevate speech and suppress dangerous background noise in high-noise environments, while providing 360° situational awareness.
For explosive environments that require UL, CSA, or TIA certifications, Sensear offers the SM1P-IS Hazardous Location Headset or the SM1P-ISDP Extreme Noise Headset (up to 36dB NRR) for noise environments exceeding 95 dB(A).
For explosive environments that require ATEX or IECEx certifications, Sensear provides the SM1P-Ex Hazardous Location Headset or the SM1P-ExDP Extreme Noise Headset (up to 36dB NRR) for noise environments exceeding 95 dB(A).
To access complete product information, click the links below to download the headset datasheets:
Clear and distinct communication is essential for all critical workers in the food processing industry to enhance efficiency and ensure the safety of the entire team. For more information on how Sensear can address your hearing protection and communication needs, please contact one of our specialists today or request a quote.