Although the first experiments in Hydraulic Fracturing began in the late 1940s, the Hydraulic Fracturing (also known as "fracking") industry has seen a boom in recent years. As of 2012, (according to the Society of Petroleum Engineers) an estimated 2.5 million hydraulic fracturing jobs have been performed on oil and gas wells worldwide. This may be due to the ability to locate unconventional natural gas and oil sources through fracking.


The boom in Hydraulic Fracturing has also raised concerns about the safety and protection of the workers. The high-pressure equipment and drills create a high noise environment. Maintaining hearing protection and clear communication can be a challenge. OSHA's proposed Silica Rule adds to that challenge by potentially requiring the use of respiratory equipment.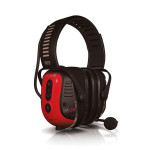 Sensear's Smart Muff may be the solution to your Hydraulic Fracturing communication needs. The Smart Muff allows workers to communicate in high noise environments and still maintain a safe level of hearing protection. The Smart Muff is also compatible with helmets and personal safety equipment such as half/full-face respirators. There are also options for a throat microphone and a large push-to-talk button compatible with gloves.
All Sensear Smart Muffs are built to be durable yet lightweight and include our innovative SENS® Technology to enhance speech and still allow the wearer situational awareness.
We have put together an information sheet outlining our Communication Solutions for a Hydraulic Fracturing Environment.