Sensear – Year in Review
As a global leader in developing and manufacturing best-in-class digital communications headsets, Sensear continues to be proactive to the needs of our customers, both existing and prospective.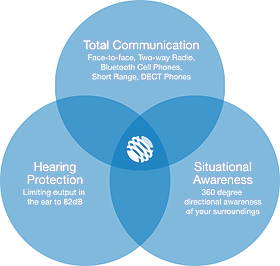 To provide the quality and effective protection and communications functionality we're committed to, we remain focused on our SENS® (speech enhancement, noise suppression) Technology and our "three circles" approach to our product offerings:
Hearing Protection – limiting output in the ear to 82dB


Total Communication – Face-to-face, two-way radio, Bluetooth® cell phones, and short-range. Integration with a variety of communications devices with Sensear headsets.



Situational awareness – 360° directional awareness of your surroundings
Each of these three concerns is paramount to the protection of our customers' employees. Avoiding hearing loss through blocking extreme noise levels has been a concern for years, with many products available to address that basic function. However, this alone has caused additional issues. Often a user cannot communicate effectively, due to the inability to hear speech clearly while wearing the protection. This is where Sensear's SENS® Technology contributes to safety and efficiency, with our new approach to high-noise communication and hearing protection. Flexibility is also key, with the wide range of integration Sensear provides for two-way radio, face-to-face communication, Bluetooth® cell phones, and more. This technology eliminates the previously inherent problem of environmental awareness, allowing wearers of SENS® products to remain vigilant of their surroundings.
Using SENS® Technology headsets in combination with our customer's communication devices provides the 'total communications' solution. Whether using two-way radios, Bluetooth® cell phones, or standing face-to-face, the wearer's hearing is protected while allowing effective speech communication. In addition, wearers of the headsets can hear warning signals or voice shouts, which is critical for safety. Sensear incorporates digital technology and sophisticated algorithms to enhance desirable sounds, notably speech while protecting against loud noises that can cause hearing loss.
What Sensear Brings to the New Year
Sensear continues to develop new products for our customers across many industries. Our focus is to provide total communications solutions, as opposed to only hearing protection. We service such diverse industries as oil and petroleum companies, aviation, rail carriers, data centers, and any environment where effective communications are needed in high-noise areas.
This year, Sensear will introduce our new HVCS (Heavy Vehicle Communications Solution) product. HVCS is designed to provide heavy vehicle operators with noise protection in this extremely noisy environment while routing signals from an entertainment or two-way radio in the cab to a wireless headset or earplugs. This significantly reduces the operator's exposure to noise levels, while improving the clarity and audio quality. Safety is improved, due to improved understanding and awareness of audio signals, while also providing effective hearing protection. The system is designed to be easily retrofitted to an existing vehicle fleet.
Sensear will also introduce our smartPlug product in 2015 with a new rugged design essential for high noise industrial environments, reusable foam or silicone ear tip options for user comfort, limited speaker volume of 82 dB, and in-ear voice pick up.
Where to Find Sensear in 2015
Sensear will be exhibiting in trade shows/conferences around the globe this year. Two notable exhibitions are:

IWCE – International Wireless Communication Expo – March 18-19, Las Vegas, NV

Since 1977, the IWCE has been the authoritative annual event for communications technology professionals. This conference will feature over 350 exhibitors, showcasing the latest products and trends in the industry. Over 7,000 technology buyers attend, representing a diverse group of industries including government/military, public safety, utility, transportation, and business enterprises.

Sensear will have significant visibility at the IWCE event, with our Director of Engineering, Mr. Alan Davis, speaking in a session on noise, interference, and audio quality.

OTC – Offshore Technology Conference – May 4-7, NRG Park, Houston, TX

Energy experts from around the world meet at OTC to exchange their scientific and technical knowledge regarding offshore resources and environmental matters. Founded in 1969, OTC is sponsored by thirteen industry organizations and societies, working cooperatively to develop the technical program. Over 90,000 professionals from 120+ countries attend the conference, with over 1,800 exhibitors participating.

More conference information is available on their individual websites:


If you plan on attending either of these conferences, please stop and say hello. We would love to meet more of our customers (and prospective customers) face-to-face.
Sensear in the Future
Sensear provides a significant advantage over alternative products, through our unique integration with multiple devices, using our SENS® Technology. With this digital approach to total communications solutions, our products combine the advantages of speech enhancement and noise reduction. Sensear provides the options that industries need for their specific environments, whether it includes Bluetooth® technology, face-to-face contact, two-way radios, or other communications devices. We can address your specific needs quickly, as an innovative, customer-centric company focused on our customers' requirements.
Talk with a high-noise communications specialist for a comprehensive needs evaluation. Sensear can solve your communication, safety, and risk issues.