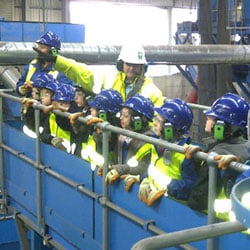 To say that plant tour headsets are useful in the modern-day high-noise workplace would be a vast understatement. Headsets designed with plant tours in mind are, in fact, vital to any successful company or facility that conducts plant tours on a regular basis in a high-noise environment. Quality headsets provide both tour guides and tour participants with a wide variety of advantages and benefits - all of which contribute to the valuable nature of quality hearing protection and communicating systems. Plant tours are valuable tools in a business' arsenal to promote the company, employees, and technologies to a vast array of constituents including school groups, civic leaders, partners, and even potential new hires. Take a look at the information below to learn why plant tour headsets are absolutely essential for the plant tour experience in high-noise environments. Most people are surprised by the impact that such a "simple" tool has on the overall success of a given business.
Hearing Injuries Among Workers Working in High-Noise Environment
Large plants, factories, and other industry-specific facilities require workers to operate in potentially loud environments that may contribute to the high percentage of hearing injuries so often associated with this set of occupational fields. The 21st century has given rise to technology that is incredibly powerful, boosting productivity and efficiency by more than can be measured. Unfortunately, however, this increase in quality technology and larger output has come with a cost. New machines are bigger, louder, and even more dangerous than they were before. Obviously, protecting the hearing of employees is a number one priority in these relatively dangerous work environments.
Hearing Protection Headsets for Plant Tours and Training
While providing a safe work environment is one thing, what about the occasional visitor? Obviously, it's the business leaders' responsibility to protect the hearing of those visitors as well, while still allowing for adequate communication. Standard noise-canceling headsets can filter out noise, but don't allow for effective communication (and, what good is a plant tour without being able to highlight the interesting aspects of the business, technology, and employees along the way?). On the other hand, many communications headsets don't allow for adequate hearing protection in high-noise environments, putting guests at risk.
Smart Digital Headsets for Enhanced Communication in Noisy Work Environments
Special technology allows for a flexible solution: headsets that both eliminate harmful sound and allow for clear communication. Quality headsets are valuable to business owners because they provide a means for seamless communication while keeping workers and guests safe and sound (no pun intended). Ultimately, quality headsets create a better tour experience for visitors. Who wouldn't want that? The set of benefits resulting from using the appropriate communication equipment during plant tours and other important events is invaluable.
Experience plant tours like never before by utilizing hearing protection and communication technology that fosters company promotion, the simple transference of information, and high standards for guest well-being.
Learn more about how quality headsets are making real-world differences among businesses that conduct plant tours on a regular basis.