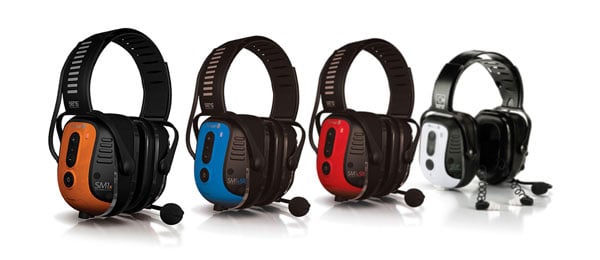 Earmuff, Or Headset?
Earmuffs, in their simplest form, have been used for many years. In the past, they were deemed effective in providing hearing protection in high noise environments. But standard ear muffs were designed to limit the volume of ALL sound, which may include important alerts or warning shouts, actually endangering the wearer. Today's headsets take hearing protection to a much higher level, providing protection, while improving communication capability, and allowing increased awareness of the workplace environment.
Is There a Better Solution?
There are a variety of headset products available today, which can be tailored to specific applications and environments. Today's headsets can provide a high level of hearing protection, contributing to worker safety, comfort, and satisfaction. Depending on the environment in a specific workplace, several types of headset devices may be applicable for protecting those exposed to extreme noise levels:
Hearing protection with improved face-to-face communications
Two-way radio, with connectivity to a majority of both analog and digital radios. This provides clear communications in noisy environments.
Bluetooth® headset with noise-canceling, connecting to most Bluetooth® devices, including smartphones, two-way radios, and even tablets.
Short-range headsets, which enable headset-to-headset communications, without radios.
Headsets that can provide hearing protection, while permitting face-to-face communication, and allowing self-awareness of the surrounding environment, are the most effective. Of course, no headset is effective unless it's worn. With that in mind, headsets are now available in several configurations, including headband, helmet mount, and behind the neck. This ensures the wearer is comfortable with the selected headset and will achieve optimal benefit from its use. Your particular work environment and communication needs will determine the best headset for each application.
What Should You Expect from Your Hearing Protection?
Customers should expect reliable, effective solutions for hearing protection and communications requirements. Headsets can be much more than simply hearing protection – today's technologies allow for:
Hearing Protection – Speaker volume-limiting output to the ear to 82dB, Passive protection up to 31dB NRR (Noise Reduction Rating)
Total Communication – Face-to-face, Two-way radio, Bluetooth® cell phones, short-range. Integration with a variety of communications devices.
Situational awareness – 360° directional awareness of your surroundings
Today's headsets offer an effective and flexible approach to hearing protection, combined with reliable, digital communications. For additional information about how Sensear can address your hearing protection and communications requirements, contact one of our high-noise-level communication specialists.