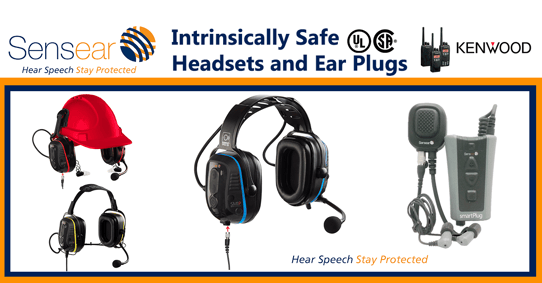 Sensear's Intrinsically Safe headsets and earplugs now have system-level certification when connected to Kenwood Intrinsically Safe radios
Sensear Smart Headsets:
SM1P-IS, SM1B-IS, SM1R-IS, SM1P-ISDP
Sensear Smart Ear Plugs:
Kenwood Radios:
NX IS series, VP IS seres
Let's Talk - Call or email for more details on Sensear's smart headsets and earplugs, certified with Kenwood radios.
Sensear is a global leader in developing and manufacturing best-in-class digital over-the-ear and in-the-ear headsets for use with two-way radio and Bluetooth communication devices. Sensear's patented SENS® technology simultaneously enhances speech and suppresses background noise so that users can verbally communicate, protect their hearing, and still maintain 360° situational awareness of their surroundings in noisy environments such as oil & gas, mining, construction, heavy manufacturing, and other industrial workplaces.