Sensear's Intrinsically Safe headsets and earplugs now have system-level certification when connected to Kenwood Intrinsically Safe radios.
How Intrinsic Safety Works
In order to prevent explosions and perilous hazards from occurring on the job, intrinsically safe headsets need to limit the electrical and thermal energy within the electrical circuits to a level below that which will ignite the gases or dusts. This prevents electrical sparks and keeps the temperature of the headsets low. This foolproofs electrical circuits, making it possible for users to navigate in potentially explosive environments.
UL and CSA
UL or Underwriter Laboratories is an independent organization endorsed by OSHA that tests and certifies product safety in North America. UL evaluates compliance of products, components, materials, and systems against a specific set of standards that is often updated. The UL mark, therefore, can only be used if the products meet the standards.
UL 913 is the typical standard for Intrinsically Safe Headsets for use in Class I, II, and III, Division 1, Hazardous (Classified) Locations. We will dive into Classes and Divisions in the next blog, but there are two systems in place in North America hazardous locations: the Division system and the Zone system. Below are typical labels for each system: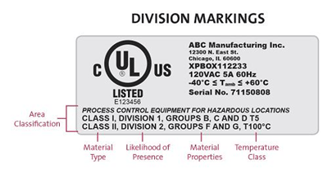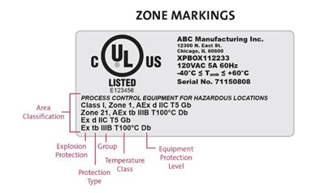 CSA stands for the Canadian Standards Association; however, it is a global provider of certification services, recognized throughout North America and Europe. It is very similar to UL, testing products for businesses to see how they respond to certain environments or situations. The only difference between the CSA and UL is that UL only applies to the U.S and Canada (C – UL). Therefore, if you want to export your product, CSA is the better option as it is recognized globally, whereas UL is the better option if you are only selling in North America.
Who Needs IS Headsets?
Everyone should care about intrinsic safety, but not everyone needs intrinsically safe headsets. Those who primarily need intrinsically safe equipment/headsets are managers of industrial manufacturing environments, employers operating oil or gas companies, and other plants comprised of possible safety hazards. Keeping employees safe should always be the top priority of any organization in hazardous environments.
Sensear Hazardous Location (UL/CSA) Smart Headsets:
Sensear Hazardous Location (UL/CSA) Smart Earplugs:
Kenwood Radios:
NX IS series, VP IS seres
Let's Talk - Call or email for more details on Sensear's smart headsets and earplugs, certified with Kenwood radios.
Sensear is a global leader in developing and manufacturing best-in-class digital over-the-ear and in-the-ear headsets for use with two-way radio and Bluetooth communication devices. Sensear's patented SENS® Technology simultaneously enhances speech and suppresses background noise so that users can verbally communicate, protect their hearing, and still maintain 360° situational awareness of their surroundings in noisy environments such as oil & gas, mining, construction, heavy manufacturing, and other industrial workplaces.