MARCH 18, 2015: Perth Australia:
Sensear, a global leader in developing and manufacturing best-in-class digital communication headsets, announced the release today of their new Intrinsically Safe Double Protection Headset (IS-SDP). Based on Sensear's existing SM1xSR IS headset, and incorporating the double protection feature from Sensear's current non-IS double protection headset; the new IS-SDP headset includes an improved boom microphone and will interface with a variety of two-way radios both cabled and via Bluetooth for wireless operations. Bluetooth can also be used with IS Smartphones and other IS Bluetooth devices.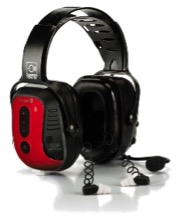 The Sensear IS-SDP headset was developed from a marketplace need for a high-performance intrinsically safe headset for extreme noise environments that require Class 1 Div 1 certification. Double hearing protection (both earplugs and ear muffs) is often required when exposures may exceed 95 decibels (dBA) in many critical working areas. At the same time operators in these environments are required to use two-way radios to hear site communications and respond appropriately. Without the use of an appropriate intrinsically safe headset, communications on site can potentially be very difficult.
The earplugs for the IS-SDP are hard-wired to the headset allowing for dual protection, and communications to be directly understood by the operator. The IS-SDP's 31 dB NRR combined with Sensear's patented SENSTM technology allows operators to protect their hearing at a safe level of 82 dB, communicate effectively between co-workers via two-way radio and Bluetooth and maintain 360° awareness.
"We were excited about the development of the IS-SDP the early beginnings of Sensear grew from creating unique solutions for many industrial environments," said Peter Larsson, CEO "the IS-SDP continues to show our commitment to developing practical, usable products that solve the communication challenges in heavy industry"
To learn more about the new IS-SDP headset, visit us at IWCE 2015 Booth # 1952, March 16th to 19th 2015, located at the Las Vegas Convention Center in Las Vegas, NV or at www.sensear.com/IS-SDP
PR Contact:
Ona Blanchette
t: +1 (603)589-4072
e: ona.blanchette@sensear.com