April 30th, 2015: Perth Australia: Sensear, a global leader in developing and manufacturing best-in-class digital communication headsets, announced the release today of their new Heavy Vehicle Communication Solution (HVCS). The HVCS allows for clear transmission of two-way radio communications and stereo audio for operating heavy vehicles at any industrial site where heavy vehicle operators contend with noise from many different sources including the vehicles themselves, the job site, two-way radio communications and audio entertainment from a stereo system.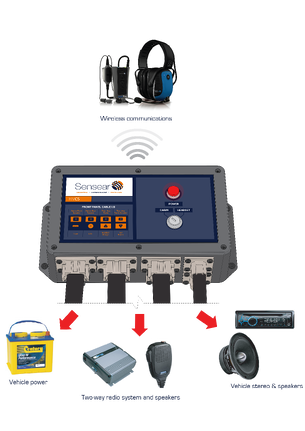 In some cases the combination of these factors can bring a workers noise exposures into the 90dB-95dB ranges. Once workers noise exposure reaches this range most occupational health and safety sanctions require actions to reduce exposure. By using the HVCS the operator's noise exposure is significantly reduced, and in most cases the exposure is dropped by 10dB or more.
When combined with Sensear smartHeadsets and smartPlug wireless headsets, the wearer is also protected by electronically limiting in-ear noise exposure at 82dB.
"It's no secret that workers in heavy vehicles listen to music and entertainment while working, but need to still communicate and protect their hearing. The HVCS is unique in the hearing protection device market in that it intelligently limits unwanted and potentially harmful environment noise, while maintaining workers' ability to communicate AND enjoy their audio entertainment. No other device offers a comprehensive solution in one dynamic package." Peter Larsson, CEO.
In addition, HVCS has a number of features that support safe and efficient operations, including:
The ability to charge the headsets in-vehicle if prior charging was missed;
Built in redundancy (both automatic or manual), allowing the original speaker to be re-enabled via internal relay operated by a lockable key switch
Passes heavy vehicle standards including dust, water and vibration requirements.
To learn more about the new HVCS, visit www.sensear.com/HVCS
About Sensear:
Sensear is a global leader in developing and manufacturing best-in-class digital over-the-ear and in-the-ear headsets for use with two-way radio and Bluetooth communication devices. Founded in 2006, through a unique partnership with the University of Western Australia and Curtin University driven by industry demand, Sensear's patented SENS technology simultaneously enhances speech, and suppresses background noise so that users can verbally communicate, protect their hearing, and still maintain 360-degree awareness of their surroundings. Sensear is based in Belmont, Australia, with offices in North America.
PR Contact:
Ona Blanchette
t: +1 (603)589-4072