As a leading provider of ground-breaking hearing safety and communications technology, it is critical that Sensear retain the top industry talent. It's why we're so bullish on the addition of our latest communications expert, Gary Lorenz. Given Gary's professional background, his perspective on the market, and his experience with distributors, he's the perfect addition to our team.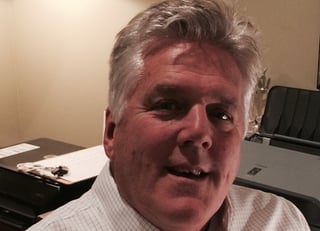 Experience Grounded in Hard-earned Knowledge
Gary joins us from Hytera after 34 years in the wireless communication industry. Previously, he operated as Vice President of Sales and Marketing at Hytera America, the fastest-growing provider of land mobile radios in the past 10 years. During his time there, he accomplished the following:
Built a strong network of over 400 dealers throughout North America emphasizing local value-added sales and support
Over 100% growth year-over-year revenue in digital unit sales, well over industry trends
Partnered with the TETRA Association (TCCA) to form the North American TETRA Forum (NATF) to lobby the FCC to allow the use of TETRA technology in the US
Before Hytera, Gary worked as a Director of Sales and Marketing at Motorola on the land mobile radio side of the business. Here he focused primarily on sales for aftermarket products and accessories. At Motorola, Gary was an essential part of the following:
Key member of the Radius team that launched the first Motorola dealer programs
Lead the expansion of Motorola's accessory and aftermarket division
Represented and opened new markets for a number of new hardware, software, and system solutions including many third-party partner products
We expect that Gary will help us achieve our goal of…
Disrupting the Hearing Safety & Communications Market
One of the aspects of Sensear that really attracted Gary to joining the team is Sensear's SENS® (Speech Enhancement Noise Suppression) technology and it's key because it addresses a major flaw in the current active noise control technology leveraged by a number of manufacturers. Currently, active noise control minimizes or reduces the noise in a loud noise environment.
The problem with active noise control is that the technology also reduces the wearer's ability to carry on a conversation or hear important noises around them. By isolating and enhancing speech, all while protecting the hearing of the wearer, SENS® technology is disrupting the hearing safety and communications market across North America—and the world.
"I really love Sensear's technology" says Lorenz. "oil, gas, transportation—everyone needs this tech." While Gary notes that there are some established competitors in the market, he believes absolutely none of them have these type of disruptive solutions. "People are looking for a more comfortable solution, like the smartPlug™. They don't want to wear big cumbersome ear muffs if they don't have to."
In every industry, Gary notes that providers always had to retrofit some sort of old or existing solution to a new challenge. In a typical environment, they might give you simple ear plugs. They're cheap, throwaway plugs that don't allow you to engage with other workers. And forget having a conversation—there are other noises, things happening around you, other conversations, alarms, encroaching vehicles, and all manner of noise. If you want to have a conversation or hear what's going on, you need to expose yourself to harmful levels of noise—which defeats the purpose of wearing hearing protection in the first place.
The Sensear smartPlug™ protects your ears, while allowing you to carry on a conversation. This is a game changer in most environments. How many manufacturing, oil or coal environments have practices built around workers not being able to communicate? Whether you're in a manufacturing control / productivity, or at a utility, people have to pull their ear muff off, and someone has to shout in their ear. They can't have a simple conversation. Sensear helps them solve this problem.
Another aspect of Sensear that Gary loves is that Sensear is deeply rooted in helping people hear better—not just protecting their hearing. Gary was amazed when he first tried out the Sensear SENS® technology, "With so many options out there—you feel disembodied. When I'm wearing Sensear's SmartMuff or smartPlug™—it's like I'm having a regular conversation—and I've heard this repeatedly by our customer advocates across the country."
Thoughts on Dealers
Gary also really likes Sensear's approach to supporting resellers. He thinks there are three key areas where Sensear can provide higher value to dealers:
The Sensear solution can be a complete solution (which for the end use small business is critical)
Sensear assists dealers in growing their customer base by offering a short range solution, an ability to pair with cellular via Bluetooth®, as well as offering the perfect complement for their main radio line
Sensear can help distributors maximize on attachment rates—another key dealer concern.
Sensear's new model is truly about the right product at the right price. And since customers are more educated than ever before, it's critical to have a local expert answer questions, providing demos, and delivering guidance through the procurement process.
Sensear is excited to have industry veteran Gary Lorenz on board, and looks forward to working with him to build our North American channel with land mobile radio dealers.