Sensear is proud to announce the addition of Omar Haji to be Regional Sales Director for the Australia, Asia-Pacific & Middle Eastern regions. Omar is a wireless industry veteran with experience both at the manufacturer level and the dealer level.
This new hire comes on the heels of Sensear's 10th anniversary and the announcement at IWCE of an intrinsically safe certification for the SM1R as well as an upcoming intrinsically safe smartPlug™ offering. We are happy to have Omar Haji as part of the Sensear family and look forward to Omar's contribution as Sensear continues to grow in the next few years.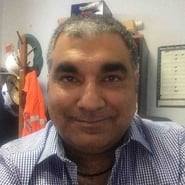 Previous to joining Sensear, Omar worked for Simoco Australasia, a global systems integrator and two-way radio manufacturer. In almost three years as State Manager at Simoco, Omar worked very closely with Kentz (part of the SNC Lavalin Group) on communication solutions for the Gorgon, Wheatstone and most recently the Icthys LNG projects. Other clients included UGL, Rio Tinto, Alcoa, Woodside, Pacific National, Western Power and BP.
Omar's prior experience also includes:
Three years with TR Hirecom, working in the Motorola sales and hire business to mining, resources, oil & gas, construction and maritime industries. He has provided solutions to clients such as Monadelphous, BHP, John Holland Group, Leighton Contractors, CBI, Downer, DTMT, Woodside and UGL.
Three years in the satellite communications business looking after mining, oil & gas, Exploration and government clients.
"Our portfolio and global reach are expanding, so it's important for our team to keep up with that growth," say Peter Larsson, CEO of Sensear. "Hiring a talent like Omar makes our team stronger and brings some additional ideas and experience to our organization. Our upcoming intrinsically safe products are a perfect fit for the mining and oil markets Omar has been involved with for most of his career."
Omar is heavily involved in rugby, and has served as a player, a coach, a manager and an administrator at the club and state level,. He also provides touchline analysis at games on a casual basis for ABC Radio in Perth.
Feel free to contact Omar using the information below. Be sure to ask Omar about our innovative SENS® technology, our new SM1R!
Omar Haji
Regional Sales Director – Australia, Asia Pacific & Middle East
E: omar.haji@sensear.com
T: +61 8 9277 7332 Ext: 2214
F: +61 8 9277 7338
M: +61 0439 086 777
Learn more about solutions for high-noise communications and the best practices in hearing protection by visiting the Sensear Blog.
About Sensear
Since 2006, Sensear has been a global leader in developing and manufacturing best-in-class digital over-the-ear and in-the-ear headsets for use with two-way radio and Bluetooth® communication devices in high-noise and industrial environments.