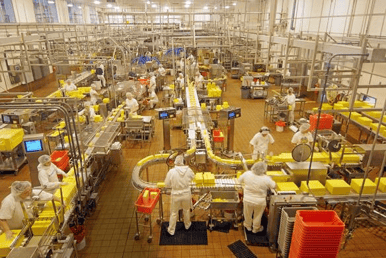 The ways in which workers communicate in different industries have drastically changed in the past year. Specifically, the food processing industry has made major changes in its communication abilities throughout the COVID-19 pandemic. As more industries were shutting down due to stay-at-home orders, the food processing companies were still in full swing, being an essential and critical industry.
With some regions still enforcing COVID-19 precautionary policies, the food processing industry has needed to adjust, installing barriers between workers, and implementing social distancing. This limits workers' abilities to communicate effectively, especially in high-noise environments. To guarantee safety and still be efficient, food processors need a clear and distinct communication solution.
Providing Effective Team Communication and Hearing Protection
No matter what communication system you use (two-way radio system, LTE network, etc.) to effectively communicate in high-noise food processing environments, you need the proper communication headset or earplug to meet your communication requirements, as well as the appropriate level of personal protection against hearing loss.
Sensear's Bluetooth® Wireless Communication Headsets are compatible with LTE Cellular Networks as well as Two-Way Radio Systems, as they offer both Bluetooth® and cable connectivity to LTE and LMR devices simultaneously allowing for interoperability between LMR and LTE for joint system usage or during the transition phase. They enable team members to have seamless face-to-face conversations with each other without the need to shout or move close to each other, all while protecting hearing. The built-in short-range for headset-to-headset communication has a range of up to 100 feet.
Sensear's headsets are powered by our patented SENS® Technology, which elevates speech and suppresses dangerous background noise in these high-noise environments, as well as provides 360° situational awareness.
For explosive environments which require UL, CSA, or TIA certifications, Sensear has the SM1P-IS Hazardous Location Headset or the SM1P-ISDP Extreme Noise Headset for noise environments exceeding 95dB.
And for explosive environments which require ATEX or IECEx certifications, Sensear has the SM1P-Ex Hazardous Location Headset or the SM1P-ExDP Extreme Noise Headset for noise environments exceeding 95dB.
For complete product information click below links to download the headset datasheet.
All critical workers in the food processing industry need clear and distinct communication to improve efficiency and guarantee the safety of all team members. For additional information about how Sensear can address your hearing protection and communications requirements, contact one of our specialists today or request a quote. You can also download our Buyer's Guide by clicking the link below.