There are many risks facing those who work in the mining industry, not necessarily the least of these being hearing loss. Working constantly next to heavy, loud equipment like conveying systems, drills, and other machinery should be enough to motivate mine workers to wear hearing-protective gear. But, many workers do not, and subsequently suffer some form of hearing loss.

Granted, it's not one of the standout industries you would primarily think of when asking, "What are some of the top industries for hearing loss?" But, it has been identified by our Sensear safety experts as having a significant and ongoing risk of hearing damage over time. This fact has also been officially and empirically proven by government agencies.
Examining the Risks
Much is discussed in mining risk management which involves higher-ups like investors, executives, and management. But, hardly ever do you read news stories that talk about health risks to mine workers--outside of a fatal tragedy like a mine collapse. Mining presents many risks to all involved, from the financial and investment level down to the frontline worker down in the mines. In the public's mind, the risk of a mining shaft cave-in far outweighs the risks to physical health over time. And, when the health risks are discussed, it has, classically, only been diseases such as black lung which are cited. Hearing loss only seems to get a mention in industries where the risk is obvious. What we are examining with this article are jobs, such as mining, which present an unobvious risk to hearing.
Official Evidence of Risk
The U.S. Bureau of Mines (USBM) and the National Institute for Occupational Safety and Health (NIOSH) compiled a 2009 report which included a plan for noise-reduction in the mining industry. A quote from the official report says, "Hazardous noise exposures are more prevalent in mining than in any other major U.S. industrial sector, and, as a consequence, miners report more hearing problems than any other type of worker." The report goes on to say that "Besides hearing loss, noise-exposed workers are more likely to experience speech interference, disturbed sleep interference, excess stress, tinnitus, and decreased work performance" (Kryter 1994). This official word on mining presenting such a risk to mine workers' hearing health should have been a mass wake-up call for all mining companies that no longer could they overlook this unobvious but nevertheless clear and present danger to the sense of hearing--and overall health--of their valuable employees.

Mining Workplace Health and Safety
Workplace health and safety issues in the mining industry have always been present, and have only increased over time. The reason for this is human endeavoring which has pushed into further and more challenging corners of the globe in the interests of extracting more and more minerals from the Earth. The U.S. Department of Labor claims that "mine safety and health is constantly improving," and has presented numerous present-day safety measures which have been implemented, including:
New communication and tracking systems for streamlining command center-to-rescue team interface
The establishment of Mine Emergency Operations (MEO) locations in several states for response capabilities
Strategically placed self-contained self-rescue (

SCSR

) devices for miners throughout underground coal mines
Better-trained emergency rescue cadres
Refuge chambers and caches of and emergency air
Hearing Risk: Viable Remedies
In the same spirit employed by numerous government agencies seeking to improve health and safety standards in the mining industry, Sensear offers a wealth of technological resources which could and should be used by mining companies. If you are interested in the longevity of your mining employees (whose well-being means more workdays), then the use of our products should be of tantamount importance to you. These products ensure both health and safety, and include those for:
Speech Enhancement -- Two-Way communications systems

Noise Suppression -- Enabling speech to be heard in continuous and high-noise environments

Situational Awareness -- 360-degree environmental awareness, accident risk reduction

Patented SENS® Technology Solutions -- Hearing protection, 100% speech replication and transmission
Sensear provides communication, health, and safety solutions for mining companies that can be custom-fitted for any organization's particular needs. Our technology standards perfectly complement the official government and mining industry findings and subsequently implemented standards.
Protect Your Company's Assets
Protecting your company's assets safeguards your bottom line, and your continued ability to do business. Your number one assets are your employees, who require maximum health and safety assurance. Sensear's advanced technology allows your assets to be fully aware of their surroundings and communicate with other fully-aware workers. Download our Buyer's Guide, and choose the right gear for your team. We use scientific, calculated metrics for technology performance, designed for demanding work environments. Watch worker loyalty and morale improve exponentially when they know they're being taken care of and protected in a hazardous workplace!
Service and Support
Our service and repair guarantees include fully-comprehensive assistance, via product manuals and ongoing support staff. Our warranty and product technical data are readily available through our website, and our staff is available to answer any of your questions or concerns about our risk management equipment. We distribute and support the mining industry and other high-noise industries throughout the globe.
Take a look at our smart muffs helping miners in Peru protect their hearing and remain situationally aware while communicating via their radio system in an environment with over 100dB of noise: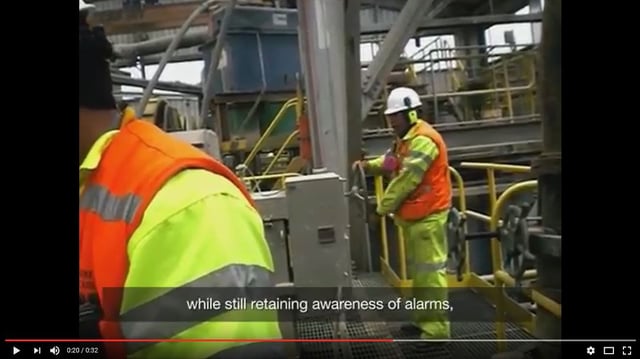 We Want to Hear from You
Our global sales offices are located in Miramar, FL, with corporate headquarters in Western Australia. You can call us toll-free at 1-888-973-6732, or fill out our online form for more information on our array of health and safety support technology, and we will get back to you right away! Want a live demonstration? Come see us at booth #8908 at MINExpo in Las Vegas, Nevada in September.